AI Clinic - business value from data
Curious about the potential of your customers, but don't know how to define it? We help!
Take part in our unique AI Clinic consultation and find out how AI can help you today!
Join us with your colleagues!
Apply
Your data creates value, discover the business benefits inherent in it!
Only a few companies take advantage of corporate data assets, and many are averse to it, even though it is essential to underpin key strategic and tactical decisions. Exploiting the data assets of companies that have been archived for many years is no longer a luxury investment, and even…
Areas where you can leverage your AI knowledge
The key area of our company is artificial intelligence as we believe that using AI will open gates for our Partners that would have been unthinkable in the past.
Automation and the development of new working methods is one of the most important steps in the digital transformation. We help you create a tangible AI solution for business purposes!
What is included in our AI Clinic package?
We could also call it the "Introduction to the Mysteries of Machine Learning" package, as the first two semesters will show you what exciting projects and business opportunities are gatrhering dust in your office drawers as well. Our senior Data Scientist colleague explains in an understandable way the seemingly complex concepts and their uses.
WHAT WILL IT BE ABOUT?
Day 1.  Business opportunities
Where is the AI now as a technology field? What real business uses do you have? What are the potential benefits of AI and machine learning. How can digitalization give a new impetus to your business as well? 30% of Hungarian companies train their employees to use such technologies.
Day 2. Technical insight
On this day, we will talk about technical perspectives such as data processing, data collection, modeling, machine learning, neural networks, and present processes through practical examples. We present the basics needed for the enterprise use of AI, our expert frames the usability of artificial intelligence at the enterprise level.
In the present situation, this 2x half-day training takes place online as part of a Teams meeting, where we expect a maximum of 5 people to attend.
Day 3. Workshop
After getting acquainted with the possibilities of machine learning, we will jointly research and analyze the possibilities inherent in your company's data in the framework of another half-day workshop. Here, we specifically look for possible processes where an MI software could help specifically for your company. We expect a maximum of 5 people to attend to keep the focus.
Without any sonorous technical words, you can expect this at our Data Science workshop:
We illustrate the value of your data through our own practical examples, real decision situations

Together with your colleagues, we analyze the possibilities of exploiting your data assets

You can also ask one of the best Data Scientists in the country in person

By the end of the day, you will know how to implement AI-based solutions for your company
The workshop result is a roadmap / POC outline that is needed to take the necessary steps on how to move in the direction of MI development.
To the best of our knowledge, such a comprehensive practical and custom-tailored service workshop is not available on the market, which is why the number of trainings is limited. Apply for the nearest date!
WHO DO WE RECOMMEND?
For those who want to experience practical and understandable examples of what AI has to offer to their company,

For innovative leaders who are not afraid to learn and try new technological areas

For those who want knowledge that will enable them to implement AI projects

For those who want digital innovation to start in their company

For those who want to gain such comprehensive knowledge, it turns out whether it is worthwhile to introduce AI technology at their company!
You can expect this at our AI Clinic event
Our AI Clinic package offers you more than just descriptions and videos on the Internet in every way. Apply as soon as possible so that we have the opportunity to work together even this year!
Recognize business goals

Recognize business goals

Utilizable AI knowledge

You will get a comprehensive picture online from the comfort of your home

Desing proposals

Discuss the necessary steps to get started

AHA experience

By the end of the day, you will know if you should use AI!
Introductory price of AI Clinic
Harnessing the potential of data raises corporate efficiency to a new level, increasing revenue and the potential for higher profits. Learn how and apply!
Who are we and why choose us?
We are not just a software development and IT resource service company. The success of our clients is extremely important to us and we are proud that, in their opinion, our biggest advantage in the market is our 19 years of flexibility coupled with expertise.
Get to know us!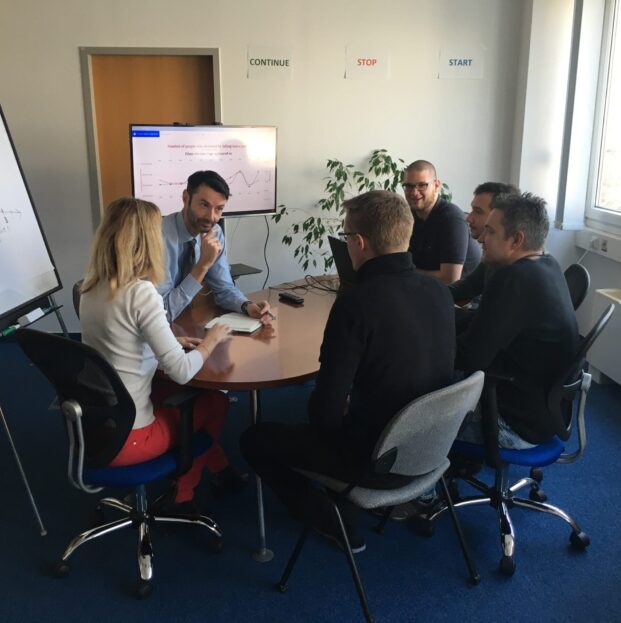 They have already chosen us
We do not leave our customers alone after the work is completed, but we provide close user support so that they can respond quickly and efficiently to changing market needs in the future.
View references
That is why it is worth to take part in our AI Clinic event
Check out our webinar for free!
Artificial intelligence solutions in practice!
On this Youtube recording, you can get to know the online presentation of our leading data colleague Gábor Budaházy free of charge, which was attended by more than 140 participants.
During the webinar, we presented case studies from 5 different areas that can be implemented with pioneering software based on artificial intelligence technology. With MI solutions in the fields of HR, agriculture, manufacturing, telecommunications, companies can gain business and technical benefits and even increase revenue.
We are proud that 100% of the participants would recommend the presentation to their friends!
Magdó Emil
Grafcon ügyvezető
Vaszkó Péter
Telekom, teamvezető
Stremeny Gábor
Develor, üzletfejlesztési igazgató